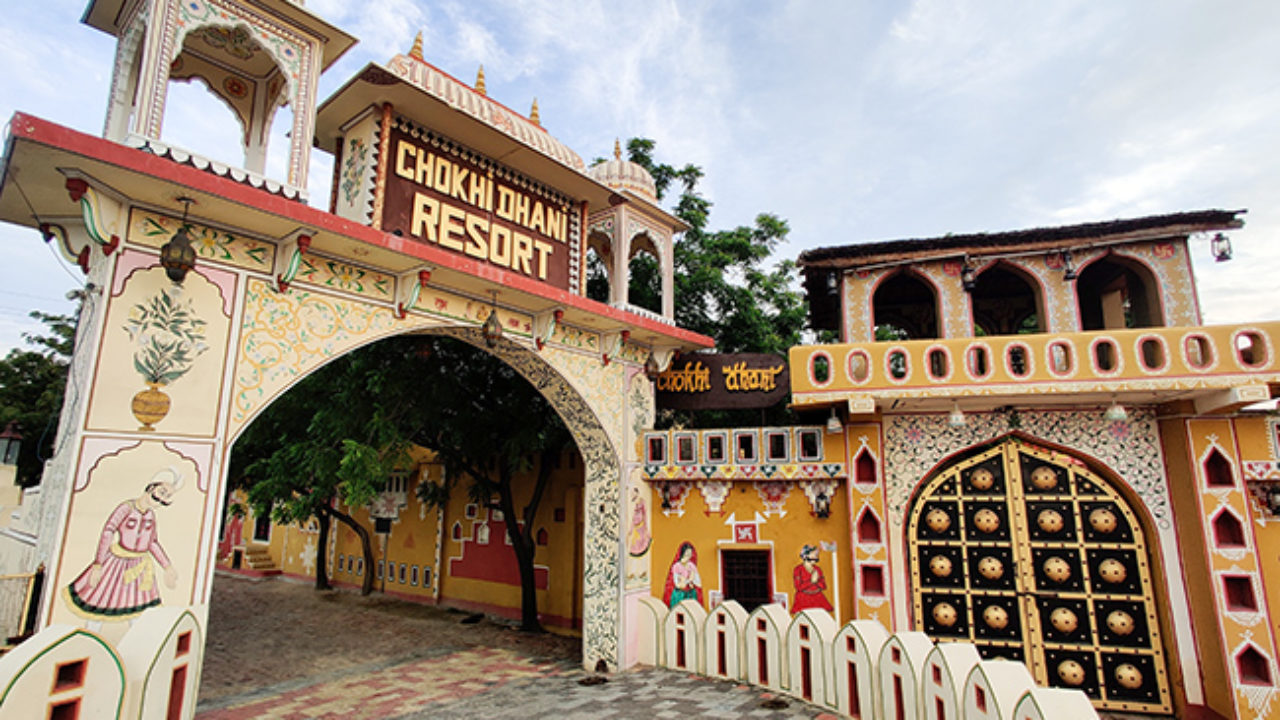 Chokhi Dhani in Jaipur: It is like a dream come true to explore Rajasthan's rich culture. And tradition through the eyes of a beautifully designed village. You can throw a party by including the wonderfully enjoyable experience of staying at a luxurious hotel. One of India's most valued belongings, Chokhi Dhani, takes on an irresistible attraction in Jaipur. Where it offers a wonderful stay for you and your family while taking you on an unforgettable journey through mythology. But before you reserve your room at this captivating village hotel, read the little information below to assist you.
Chokhi Dhani in Jaipur

Interesting Facts
Since opening in 1994, Chokhi Dhani in Jaipur has provided 5-star hospitality to visitors from all across India and the globe.
At Chokhi Dhani, everything from food to clothing to way of life to artifacts, crafts, paintings, sculptures, folklore, and dance. And other traditional elements come to life in their authentic Rajasthani forms.
Chokhi Dhani is located outside of the city and is popular with tourists since it provides a traditional Rajasthani village experience along with 5-star resort amenities for everyone.
The most talented architects used everything from traditional Rajasthani design to the method of building to create the architecture of Chokhi Dhani, which combines luxury and the sense of being in a quiet village.
The popular sports that visitors can partake in while at Chokhi Dhani include elephant and bullock cart rides, camel rides, horseback riding, and boat trips.
In Chokhi Dhani, one of the resort's most famous attractions, skilled actors frequently reenact the battle of Haldighati, which is well-known throughout Rajasthan.
Another prominent attraction is a Rathkhana, which showcases the vintage chariots utilized by Rajasthan's royal families in the past.
Within Chokhi Dhani, there are huts and shacks that depict the village life of Mewar, Registan, and Jaisalmer. These accommodations give each visitor a genuine Rajasthani experience while also allowing them to learn more about the state's rich history.
At Chokhi Dhani in Jaipur, there is also a Vaishno Devi Temple with a man-made waterfall, a Jungle Devta Temple, and a Tejaji Temple. These investigate many traditional beliefs in Rajasthan.
Visitors can experience India's diverse traditions and see how deeply ingrained each state's culture is by visiting the National Museum in Chokhi Dhani. Which showcases the history and legacy of every Indian state. States like Gujarat, Maharashtra, Rajasthan, Tamil Nadu, Jammu & Kashmir, Kerala, West Bengal, etc. are included in this.
Things to Do
Chokhi Dhani hosts a variety of music and dance acts on a regular basis, with the Kalbeliya nomad tribe's traditional dance being the most well-liked.
Other shows feature the fascinating and risk-taking Rajasthani folk dances Terah Tali Dance and Bamboo Acrobatics.
Another unusual performance is the classic fire act, in which the actor appears to be devouring fire.
Other must-see activities in Chokhi Dhani include a puppet show, a bird fortune teller, an astrologer, henna artists, a magic show, and a bioscope film detailing Rajasthan's history.
Both kids and adults can participate in engaging games like "bhool bhulaiya," in which players must navigate a challenging maze.
You can also participate in other games like jungle sair, a forest safari, gufa jharni, a hike through a man-made cave of waterfalls, dart games, archery, shooting, and so on.
Kids can participate in fantastic games and activities on a playground that is specifically designed for them.
To bring home memorable mementos from your journey to Rajasthan. Shop at the renowned Kalagram in Chokhi Dhani for Rajasthani handicrafts, art, paintings, craft, and sculptures.

At Chokhi Dhani, a meal
You can eat traditional Rajasthani meals at the Sangri Dining Hall on platters made from delicious leaves.
Eat lavishly while dining al fresco at Gorbandh, which is renowned for its Rajasthani sweets and delights.
The Chaupad Dining Hall, fashioned after the game of the same name, is renowned for both its distinctive decor and mouthwatering cuisine.
At Royal Fine Dining, you may experience true regal hospitality and eat with your family while feeling like kings and queens.
Best Time to Visit
October to March
Guest Packages
Standard Cottage
Executive Cottage
Royal Cottage
Dola Maru Suite
Royal Suite
Family Royal Suite
Mini Suite
Haveli Suite
Once you've selected one of the wonderful and luxurious packages at Chokhi Dhani Jaipur. You can see Rajasthan authentically without having to deal with any inconveniences while traveling. Every visitor to Chokhi Dhani is guaranteed to have a wonderful time. So you can be assured that you and your family will have a memorable holiday.